HIPH - polish steel industry
---
Polish Steel Industry 2019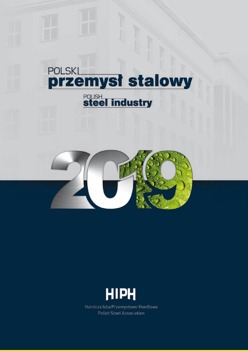 PPS 2019
Dear Readers,

The year of 2018 was yet another year of GDP growth and improved economic conditions for Poland. The economy recorded a growth rate of 5.1%, despite the fact that the economy of the whole European Union showed a slowdown in growth.
Uptrending demand for steel was visible in the last year in many countries around the world. Despite the OECD?s efforts to reduceproduction overcapacity, global crude steel production in 2018 increased once again by 5%, reaching a record high of 1,809 million metric tonnes. The world?s largest producer and consumer of steel - China - increased its production of crude steel by 6.6 percent, to 928 million metric tonnes. The utilisation rate of crude steel production capacity in the global iron and steel sector reached almost 80%, with an excess capacity of approx. 460 million mt. 2018 saw the global demand for steel products also increased, reaching a record result of 1,712 million tonnes, up 7% as compared to 2017.
In 2018, Poland?s economy consumed a record amount of steel as the economic situation in the industry and large-scale investments had the national consumption of steel products increased approx. 9.0%. Polish steelworks delivered 10.16 million mt of crude steel (a 2% drop in relation to the output in 2017), of which 5.85 million mt were shipped to export markets (down 4%). Equally, almost 12 million mt of steel products were imported to Poland. Apparent steel use, the highest since 1989, reached 14.9 million mt, with imports accounting for 72% of domestic consumption. ASU has been consistently growing in Poland for many years, trailing economic growth (13.6 million mt in 2017, 13.1 million mt in 2016, over 12.5 million mt in 2015 and 12.3 million mt in 2014).
However, it should be remembered that 2018 saw the metals world operating under what could be termed a trade war. In March 2018, US President Donald Trump announced tariffs on steel and aluminium products of 25 % and 10 %, respectively. This move raised concerns of steel makers in the European Union, who were afraid that as a result of US actions, about 30 million mt of steel products that do not reach the US market could be diverted to the EU.
After failed negotiations with the United States, the European Commission decided, as early as on 17 July 2018, to introduce temporary safeguarding measures in the form of tariff-rate quotas for the importation of 23 steel product groups in an attempt to defend its own market for a period of 200 days. After using up the quota in the given product category, further imports will be charged with a 25% customs duty.
A serious threat to the European steel industry comes from the still growing, often subsidized imports from third countries. In addition, the competitiveness of the iron and steel sector in Poland is hampered by energy prices for energy-intensive industries which are higher than in most EU countries, rising prices of CO2 emission allowances and high costs of meeting EU requirements in the area of O2 environmental protection.
In 2018, as part of the follow-up call for proposals launched by the NCBiR or National R&D Centre under the INNOSTAL Scheme for the steel sector, the implementation of next 16 R&D projects started as recommended for co-financing with PLN 87 million. 2019 will see the third Call announced for the INNOSTAL Funding Scheme.

Dear Readers!
I am presenting this publication to you with the conviction that despite the recent signs of economic slowdown in the EU, Poland will continue to maintain high economic growth for the next few years, the implementation of many infrastructure investments will continue while supported by EU funds, and high expenditure on research and development in steel will improve the competitive position of the domestic steel industry.
Stefan Dzienniak
President of the Board
Polish Steel Association