HIPH - polish steel industry
---
Polish Steel Industry 2018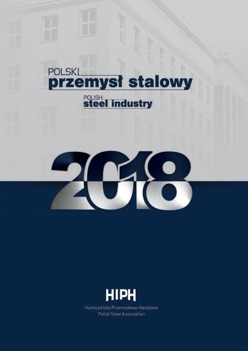 PPS 2018
Dear Readers,
2017 was, similarly to the previous year, one of improved economic performance and of continued GDP growth for Poland. The economy was developing at a rate of 4.6% around growing European Union market and stabilising Chinese economy.
The global crude steel production increased in 2017 by 5%, reaching a record 1.69 billion tonnes. However, the utilization of the global steel production capacity was still low at approx. 69%, and the estimated excess capacity was 760 million tons. Global demand for steel products continued to grow and amounted to 1.59 billion tonnes, making another best result in history.
The recent foreign trade tensions between major economies, which carry the risk of turning into a trade war, can, however, harm the future economic growth and global steel market. The trade defence instruments applied by the European Union against steel imports from third countries were insufficient in 2017, and resulted in continued high 22% share of imports to the steel consumption rate. The decline in the competitiveness of European steel makers was caused not only by the high costs of EU environmental policy, which are not borne by producers outside the Community, but also by often Government-subsidized steel making in many steel-producing countries. In addition, global steel production saw a rapid growth in such
countries as Vietnam, India, Iran, Egypt and Turkey.
The steel market in Poland increased for the fourth year in a row, thanks to which the consumption of steel products amounted to a record 13.5 million tons. Market conditions allowed domestic steel producers to rapidly grow crude steel production which exceeded 10.3 million tonnes. The construction sector, accounting for 43% of national steel consumption, after a 14% drop in 2016, showed a 12% increase in production thanks to implemented infrastructure projects co-financed by EU funds. The magnitude of growth in infrastructure investments lets one expect a further increase in the consumption of steel products in 2018. Good performance figures were reported in other steel-using sectors such as metals products, machinery and equipment, automotive, transport equipment. However, the share of domestic deliveries to the apparent use of steel did not increase - foreign steel producers were still the main beneficiaries of the increase in consumption. Foreign deliveries accounted for as much as 71% of consumption of steel products in Poland. Due to the export growth spike, the trade balance was improved in terms of volume, although the trade deficit was still very high and amounted to 4.3 million tonnes.
Threats to the competitiveness of the domestic steel industry remain, in addition to the cheap, often government-subsidised third countries imports, prices of energy carriers that are higher than in most EU countries such as electricity and natural gas for energy-intensive industries, and high costs of meeting EU environmental requirements, which are not borne by countries outside the EU.
The initiatives launched in 2014 by HIPH to support innovation in the steel sector resulted in NCBiR (National Research and Development Centre) launching the steel sector scheme dubbed INNOSTAL. In 2017, the implementation of 20 R&D projects selected in the 1st Competition round of the INNOSTAL sectoral Scheme and the 2nd Competition was started where 26 new innovative projects awaiting co-financing were launched. Dear Readers,
Presenting you this edition, I am hopeful that the high economic growth of Poland as forecast for the
coming years, many infrastructure investment projects supported by European structural funds, increased steel makers? spending on research and development and favourable market changes will create conducive conditions for the growth of the competitiveness and further development for the steel industry.
Stefan Dzienniak
President of the Board
Polish Steel Association